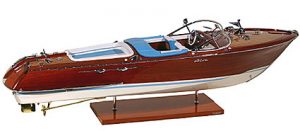 Quality scale model Rivas – Riva official licencee
Special Limited Edition. 1/7 Scale. (150 models)
These superby realistic wooden boat models are handcrafted from quality hardwoods and planked on a shaped frame. Ten coats of two-pack gloss varnish are applied and metal/brass fittings are used throughout. Sizes range from 1/32 scale (25cm long) to 1/10 scale (87cm long). Prices range from £545 – £1365 (excluding VAT and shipping). Information correct at the time of publication.
Order by clicking the box beside the reference number of the model (or models) below and completing and sending the order form. We will calculate shipping, insurance and taxes (as applicable) and email you an invoice enabling you to pay on-line using PayPal's secure payment service. We also accept payment by Bank Transfer and cheque (see order form).
PayPal will convert our prices in British £s to the currency required to charge your payment card (PayPal reserve the right to set their own exchange rates; see www.paypal.com for more information). Please note that insurance is not optional and your order will be dispatched by our nominated carrier when we receive cleared funds.